Sanibel Island & Captiva Island, Florida Chamber of Commerce Information
Our Mission Statement: 'To promote the prosperity of our members and preserve the quality of life in our Community'
The Sanibel Island and Captiva Islands Florida Chamber of Commerce offer a great variety of member benefits to help its members promote and develop their businesses.
Our
Chamber Visitor Center
is located at:
1159 Causeway Blvd. 2nd driveway on your right Sanibel, Florida 33957 USA
Call us at:
239-472-1080
Get Directions
to the Chamber of Commerce.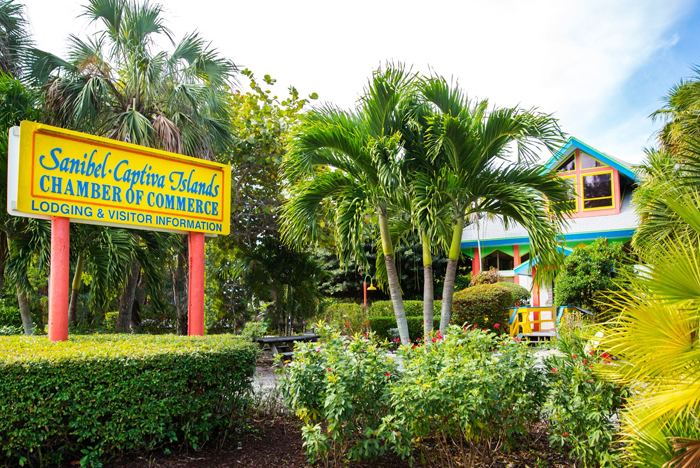 For more than 60 years, we have been dedicated to fostering the growth and prosperity of our business community, while nurturing the quality of life for all those who live, visit and work on our sanctuary islands. Click Here to see more information about this Florida Chamber of Commerce's History.
To help grow local business, we provide complimentary marketing and business support services for businesses to reach visitors to the area, as well as other local businesses.
The Chamber also works on the local level to bring the business community together to develop strong local networks. We have found that representing Chamber member businesses in local government issues has proven to be an excellent way to foster local growth thru pro-business initiatives.
The Chamber offers many social gatherings, so members can introduce their business and meet local business owners including:
Monthly business lunches
Annual meetings
Local and statewide events.
Advertising opportunities are abundant. The Chamber provides a breadth of advertising opportunities to its business members including:
Directory listing
Member website link
Annual visitors guide listing distributed to 120,000 potential visitors
Weekly newsletters to stay updated on what's happening
And so much more.
In addition to our complimentary services, The Chamber offers many other marketing programs to help our members build their business. For accommodation members, we also offer affordable and effective co-op marketing efforts.
For more information about the Chamber including:
For more information, call us at 239-472-8255 or email us at [email protected].
For a list of Marketing Opportunities as a Chamber member, click here.
The Chamber of Commerce Visitor Center has been ranked number 1 on Trip Advisor.