Bike Rentals Sanibel Island
Click the link below for contact information regarding bike rentals Sanibel Island.
Where Can We Bike Ride on Sanibel Island?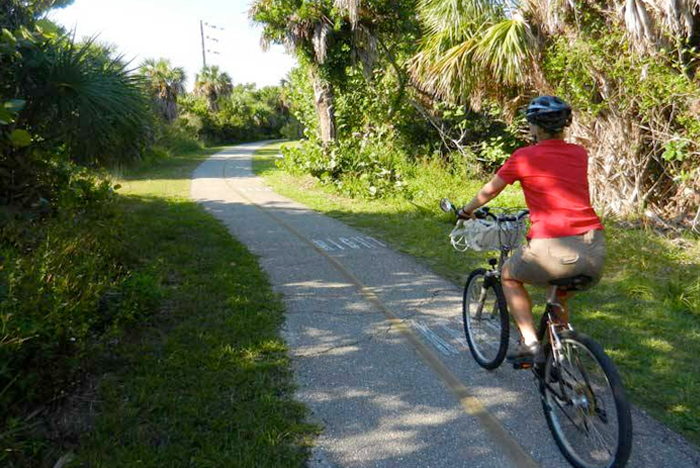 For one of the best island tours, hop on a bicycle. Our well-maintained 'Shared Use Paths' commonly known as 'bike paths' cover 25 miles of shopping districts and back roads, and they meander through friendly neighborhoods, beneath shady tree canopies, across wooden bridges and along quiet waterways. Biking on Sanibel is fun for the entire family.
Paradise Pathways on Sanibel Island
By bike is the most intimate way to get to know Sanibel Island. (Captiva's narrow, twisty roads make biking risky.) 22 miles of paved bike paths take you almost anywhere you want to go. They lead to shops, restaurants, points of interest, wildlife centers and beaches.
Many island resorts, hotels and motels have bicycles for guest use, plus there are public bike rentals facilities on both islands. (In addition to solo bikes, they rent helmets and kiddy trailers.)
Where Can We Bike Ride on Sanibel Island?
Rabbit Road Trail. The Rabbit Road bike path runs behind homes and along a canal. If you go biking early in the morning, you're likely to see plenty of the small gray marsh rabbits that give the road its name. Wading herons and alligator snouts are other common sightings along the quiet one-mile stretch between West Gulf Drive and Sanibel-Captiva Road. Near its intersection with the Sanibel-Captiva Road path, you'll find a drinking fountain.
Wildlife Drive. The 4-mile one-way loop around J.N. "Ding" Darling National Wildlife Refuge, ending 3 miles north of the starting point on Sanibel-Captiva Road. Along the way, you can stop and hike into the refuge on short trails or climb the bird observation tower. Bicyclists must pay $1.00 per person over the age of 16, (free for children 15 years and under), to enter the refuge Wildlife Drive.
Dixie Beach Road. This long, straight, easy stretch of 1.5 miles takes you from Periwinkle Way, near Heart of the Islands shopping center, to San Carlos Bay. Where the road meets the bay, you can turn right and gaze at beautiful bayfront homes, or turn left and follow a contorted shell road to an undiscovered place where old island collides with new.
Middle Gulf Cemetery Route. East of Casa Ybel Road, the Middle Gulf Drive bike path leaves the roadside and takes you into backwoods. Here you'll find Sanibel's pioneer cemetery, which is not accessible by car. The path continues over the river and off-road to the beach at Gulfside Park.
Civic Core Circle. Use this paved trail to explore the sites on Dunlop/Wooster Roads. Visit the Library, Historical Village, BIG ARTS and City Hall. Use the crosswalk in front of the Sanibel Community Association to Periwinkle  Way and bike parallel to Dunlop road just east of the Herb Strauss Theatre.
Other Walking/Biking trails on Sanibel. CLICK HERE to download a map of the trail on Sanibel.
Sanibel Bike Safety Video
Use designated bike paths where available. Download the Sanibel Bicycle Club's Shared Use Path Map & Safety Guide
Ride on the right, pass on the left and give audible notice when passing.
Observe traffic laws and signs (i.e., stop and yield as you would in a car); use hand signals when stopping or turning.
Bikes are not allowed on the beach.
Florida law requires a headlight and taillight when riding at night.
Florida law prohibits using earphones while riding.
Florida law requires that bike riders under age 16 wear helmets, but it is a smart practice for all riders.
City of Sanibel elevated to "Silver" status Bicycle Friendly Community℠ by the League of American Bicyclists
The League of American Bicyclists recognized the City of Sanibel with a "Silver" Bicycle Friendly Community (BFBSM) award. In 2010 Sanibel was awarded the "Bronze" designation. Only three other Florida communities Venice, the Villages and Gainesville hold this prestigious designation.
In 1976 the first 2½ miles of Sanibel's paths were built along Periwinkle Way with $10,000 of seed money from the original Sanibel Bike Path Committee and a matching grant from the Florida Department of Transportation. Today the City has more than 25 miles of paved Shared Use Paths and 8 miles of natural surface paths.
The "Silver" BFC award recognizes Sanibel's commitment to improving conditions for bicycling through investment in bicycling promotion, education programs, infrastructure and pro-bicycling policies.